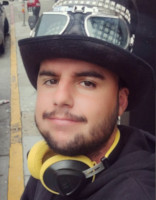 Antoine Doussaud
Embedded HW/SW Engineer
Paris, France
antoine [at] doussaud.org
+33 6 71 51 27 92
16 June 1995
Summary
I am a passionate embedded HW/SW engineer. I worked on many projects in different areas.
Like PCB design and assembly as well as software and firmware development.
I also worked as a developer on several video games on PC, consoles and smartphone.
Work Experience
Researcher / Developer
Matrice
January 2019 - January 2020
Researcher in IT development and tech solutions, in an R&D laboratory for a large French car manufacturer.
Embedded Software Developer
Plantoids project
June 2018 - September 2018
Burning Man 2018 on project Plantoid Garden
Firmware development and electronic design of Wifi LEDs controlers
Development of the embedded server able to generate procedural music and generate LED animations with sensors data
Setting all the electronic on the Plantoids
Info
Embedded Software Developer
Nano Racing
June 2016 - April 2017
Firmware development and electronic design for FPV racing quadcopters
Fly controller, Video TX 5.8GHz, RX radio 2.4GHz, Brushless motor controller )
Proprietary radio protocol development 2.4GHz
Game developer
Le Cortex.
July 2015 - March 2016
Game developer on Playstation 3, Nintendo Wii, PC and Web.
99-Dragons ( PC, …)
La Voz Vol. 3 (Wii, PS3)
Los40 Vol 2 (Wii, PS3, PS4)
WeSingNow (Web, Android, iOS)
Oink! (GGJ 2016, PC)
Education
Computer Science study
Université Paris 13
Student
September 2013 - July 2014
Prépa intégré Institut Galilée + IUT informatique à Université Paris 13 (concours GEIPI Polytech)
Bac STI2D at Lycée Jules Ferry Cannes
Student
September 2011 - July 2013
Industrial Sciences and Technologies of Sustainable Development Field of Study: Digital Information System
Skills & Tools
Coding Skills
Java

Python
Electronic Skills
Reverse Engineering
Others
Electronic

Kicad

Eagle

Altium

Wireshark

Git

Firmware

ARM

ARM

ESP32

ESP8266

Nrf52

Bluetooth